Find out more about news, events and promotions from LeoPalace Resort.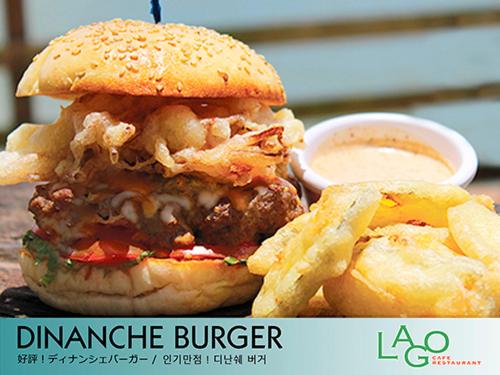 [PROMOTION] DINANCHE BURGER AT LAGO RESTAURANT

(Updated: 4/18/2018)
Indulge in our signature Dinanche Burger topped with crispy onions, lettuce, tomatoes and dressed in our homemade Dinanche sauce. Served with beer battered pickles and paired with Cajun ranch sauce that sure to take you on a culinary journey!
$14.00 +10% sc
Please call ext. 7190 or 300-7226 for reservations or more information."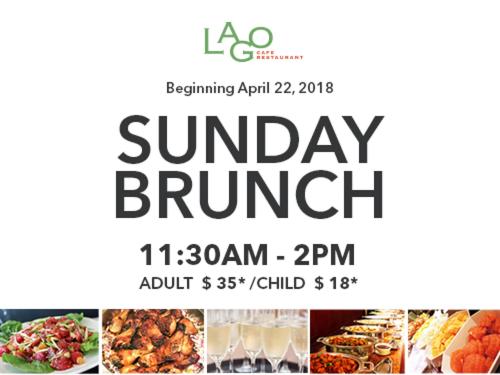 [PROMOTION] SUNDAY BRUNCH AT LAGO CH
(Updated: 4/13/2018)
It's back at Lago Restaurant beginning April 22.
The Brunch Includes One game of bowling per paying guest.
*A 10% Service Charge will be added to all prices listed.
Please call 300-7226 or ext. 7190 for reservations or more information.
DOWNLOAD POSTER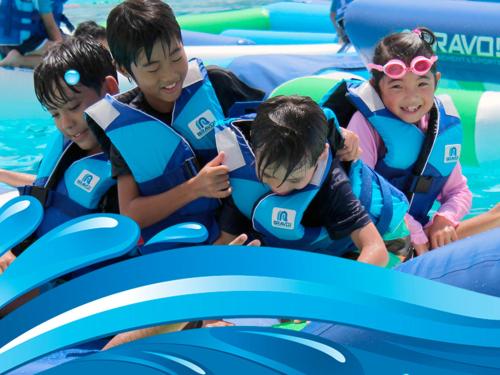 [PROMOTION] LEO ATHLETIC WATERPARK
(Updated: 4/10/2018)
Spring into Summer here in paradise with our Leo Athletic waterpark!
Saturday, April 28 to Saturday, June 30.
Open on Saturdays and Sundays only.
DOWNLOAD POSTER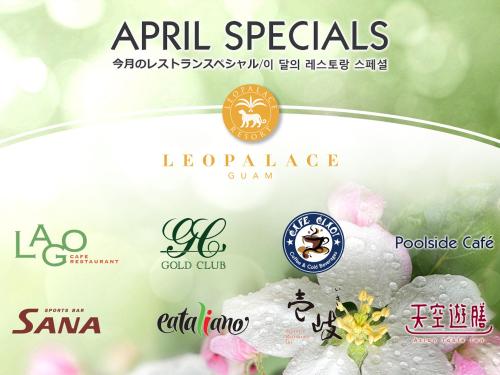 [PROMOTION] APRIL SPECIALS
Don't miss what's happening in our restaurants!
New items featuring this month are:
Poison Ivy's Elixir (Tequila base) and Smurf's Elixir (Tequila & Vodka base) at Sana Sports Bar!
Please check the poster in the hotel lobby for other specials!
For reservation or more information, call us at ext. 7154.
DOWNLOAD POSTER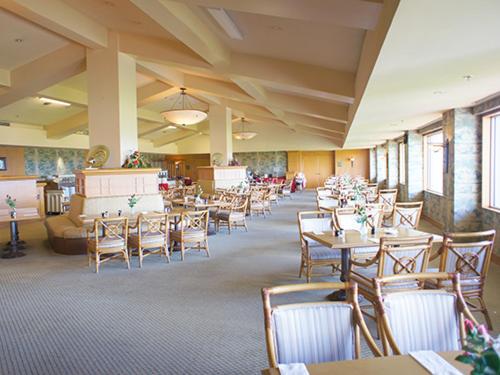 [INFORMATION] GOLD CLUB TEMPORARY CLOSURE
(Updated: 4/3/2018)
As part of our continuous efforts, GOLD CLUB Restaurant will be CLOSED for renovations starting
April 16 - June 30, 2018
.
You may still enjoy Gold Club's delicious Sunday Brunch every Sunday at Lago Cafe Restaurant located on the hotel 1st floor beginning April 22, 2018, from 11:30 am - 2:00 pm.
We are sorry for the inconvenience and appreciate your patience as we work to enhance your LeoPalace Resort experience.
[INFORMATION] NOMINEE FOR PASTRY CHEF OF THE YEAR 2018
(Updated: 4/3/2018)

We are pleased to announce that our very own pastry chef, Madoka Hosotani Tenorio has been nominated for PASTRY CHEF OF THE YEAR in the 2018 Excellence in Culinary Arts and Restaurant Awards.
The ECARA Awards aim at recognizing people and restaurant operations that have contributed to the excellence in culinary arts and foodservice on Guam and honor the exceptional ability and accomplishments of hardworking individuals in the industry.

Please visit their page on Facebook and vote.
Tenku Yuzen Season Dinner (Uploaded: 3/27/2018)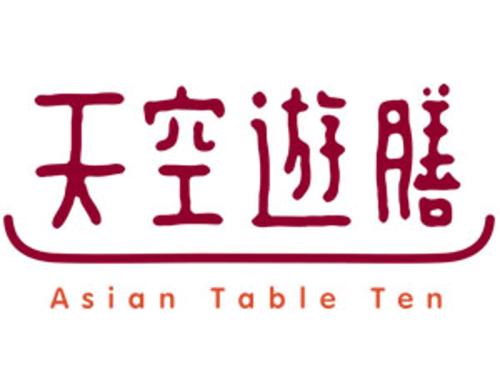 [PROMOTION]
Tenku Yuzen Season Dinner
for April 1 - June 30 at
Tenku Yuzen.
-Seaweed Salad w/ Garlic Dressing
-Thai-Style Soup
-Homemade Spring Rolls
-Fried Shrimp in Mayonnaise Sauce
-Combination BBQ(Kalbi, Harami, Prime Pork, Vegetable)
-Kimchi
-Rice
-Homemade Almond Jelly
$60.00
(+10%)
For reservation or more information, please call 671(471)0033.
DOWNLOAD MENU
SPA Guest Specials (Apr-Jun)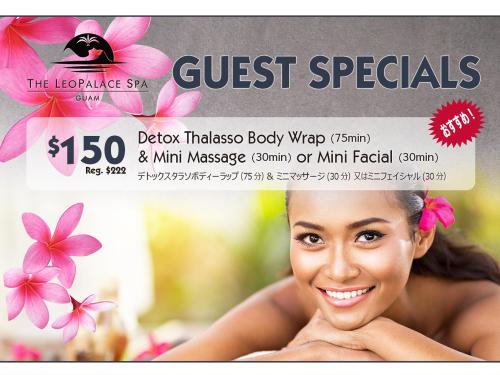 [PROMOTION]
LeoPalace SPA
:
Spring/Summer Specials
Manager's Special:
Detox Thalasso Body Wrap (75min) & Mini Massage (30min) or Mini Facial (30min)
Plantomer Lift-Off Mask (60min) Aroma Sweet Massage (60min)(Total Relaxation) or Vitality Massage (60min) (The combination of deep tissue & Swedish Massage) Aroma Hot Stone Massage (60min) Full Therapeutic Body Massage (90min) Quick Oil Massage (30min) Neck & Shoulder, Head & Arms, or Foot Massage
DOWNLOAD FLYER
For reservations or more information, call EXT. 7953 (10AM-5PM)
LeoPalace Resort Guam Launches new brand images of Hotel and Towers (Updated: 3/21/2018)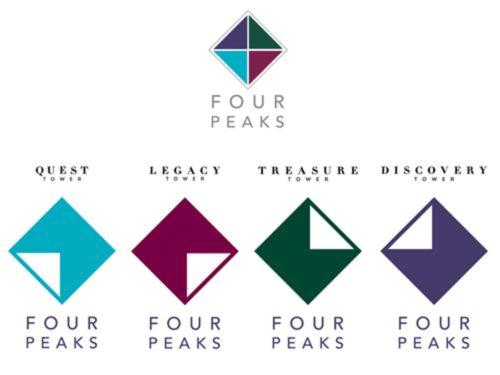 [INFORMATION]
In April of 2017, LeoPalace Resort Guam revealed its new level of luxury by launching the all-new Medallion Floor located on the 4th and 5th floor of the LeoPalace Hotel. This said level of luxury is LeoPalace's version of Executive services that cater to the high-end market. Confident to say, the Resort offers a unique resort experience to every visitor from all walks of life. To continue the expansion of our services, in April of 2018, another exciting product will be launched for our guests. The former La Cuesta Condominiums will become "Four Peaks." In this rebranding, each tower is brought to life with character and personalization. The Four Peak Towers individually named as Quest Tower, Discovery Tower, Legacy Tower and Treasure Tower will offer guest specific accommodations according to their preferences and needs. Whether guests are traveling for business or leisure, our diversified services accommodate each and every traveler with a peaceful experience right here in paradise.
*LeoPalace Hotel (April 2017 former Belvedere Hotel)
Premier Room (former Superior Twin) Starting April 2018 after the renovation.
Luxury Room (former Deluxe Twin) Starting April 2018 after the renovation.
*Four Peaks (New naming for the condominium buildings starting April 2018)
*Quest Tower ​​​​​​​ (La Cuesta B)
*Legacy Tower ​​​​​​​ (La Cuesta C)
*Treasure Tower ​​​​​​​ (La Cuesta D)
*Discovery Tower ​​​​​​​ (La Cuesta E)